See what clients say about their experience of Bruce's services.
Then call to experience your own success story.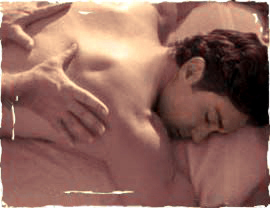 "This is a Sanctuary in the City." – ST, ESL teacher

"That was the best massage I've ever had." – ED, massage therapist

"Thanks for your concern about my finances. But I'll be here next week... It would cost me more to not see you!" – DK, when all-but unemployed

"I've been doing really well since Monday's session. I am working out and biking and everything with no pain whatsoever. THANK YOU. Your nurturing, healing abilities are amazing. Let's set up another one. – LS, computer programmer

"I refer to you as 'The Eraser'. Over the years, any time I come in with a pain of any kind you just erase it. The first time, I'd had a pain behind my knee for six months – and it was gone before the session ended. I can imagine you with a cape and a big 'E' on your chest!... My friend sees someone else and she's left with the same aches and pain. Since I've been seeing you, every pain I've ever had goes away." – AH, musician, teacher

"It was immediately obvious during my first session with Bruce that he is an incredibly experienced massage therapist, from the thorough assessment before we got started, to the restorative body work that not only released the tension in my neck and back, but addressed the wellness of my body as a holistic system. It's important for therapists doing work on your body to know what they're doing, and I felt like I completely trusted him to work his magic. As someone who loves yoga and anatomy, I was impressed to see him apply his extensive experience in yoga and mind-body wellness into his work. I was engaged during the entire massage session and learned a lot about certain muscles that I've been unconsciously contracting, and areas of my body that are compensating for muscular weaknesses in another. It was a great educational experience for me, although Bruce mentioned that a lot of his clients just want the great massage without the interaction, which he happily accommodates and just wakes them up when he's done :)
I walked out feeling light, relaxed, and in love with the world - and immediately sent a few good friends his contacts, because I think I just struck massage-therapy gold in finding Bruce." – JY, visiting NY from CA

"Thank you for yesterday. That was an incredible session – and indeed the back pain is GONE today. It is so nice to work without that pain. Thank you so much. I'm sure it was a difficult session [Actually, it was a pleasure – Bruce], but it made a significant difference in the quality of my life and work." – LE, puppeteer & entrepreneur

"My body is straight for the first time since I've been an adult! I walk straight. I saw my reflection in a store window after leaving my session. I'm straight and tall! You're a miracle worker. Thank you!" – JKC, public health advocate

"I am free of pain and it's surprising AGAIN. There's no limit to what you can do. UNBELIEVABLE!" [And, reported after a later session:] "So I said to her, 'Why don't you come to see Bruce? He's the best person on the earth [to help heal your back].'" – PC, dog trainer

"I've known Bruce Markow for years and am happy to say that he's a practitioner of the highest caliber. I'm a long-time massage therapist myself, and the sessions I've had with Bruce have always left me inspired and humbled, both by the focus and quality of his hands-on skills and by the deeply caring and nurturing quality of his presence. I've referred a number of clients to his practice over the years... and they've all spoken highly of their experience with him." – SG, massage therapist/educator

"It's always a great time spent – it's always such a positive experience." – JC, homemaker

"On a scale from zero to ten, this was a million." – LB, executive

"Get ready. He's an artistic master." – LN, art dealer

"I've been energetic and free all spring long. I attribute that to these treatments. Recently I visited with my mother; she said I look so healthy and happy. I know this is why." [And then a few weeks later:] "Over the past couple of weeks I've noticed how this work is helping me be the person I most want to be. I'm feeling a lot of peace and joy and I find I forgive people easier and more quickly. Also I recover from allergies much quicker." – CD, professor & author

"You know what the problem is? I came to you, and then if I go to somebody else, it's like money thrown away. You've spoiled us!" – JM, dog walker

"The best M.T. in N.Y. I feel totally undefended." – RD, holistic M.D.

"I want to thank you again for the massage and the work yesterday. It was great and, actually, I saw some significant change that's happened just since our being together. So I would like to schedule out of my own interest and my chiropractor's demand: He said 'Go back to that guy!'"– DW

"I am calling to let you know how much good it did to do a session with you on Tuesday. It just was terrific. The affects have lasted throughout the week. I just thought you said some really valuable things, so I wanted to thank you and I am looking forward to the next one." – HA

"Massage sessions with Bruce Markow have helped me on many different levels. As an organist, I experienced tension problems in my right arm, shoulder, and neck area. My sessions with Bruce over the course of a year and a half virtually eliminated all of the soreness and discomfort that I had originally experienced. In fact, after seeing several doctors and physical therapists, only Bruce's work enabled me to reach the pleasant state of healing that I now enjoy.
"In addition to addressing the physical aspects of the problem at the deep tissue level, my sessions with Bruce gave me the mental tools to relax and allow my body to be in a state of ease. This mental power proved to be just as important as the physical work at the deep tissue level. After many sessions, I was able to gain a thorough understanding of the nature of tension within my body and to thereby control it.
"Each session was a learning experience as I confronted new sources of tension lurking in my body. Thanks to Bruce Markow, I now have greater confidence in my ability to put my body in a state of ease. I have been given all the necessary tools to do so. I highly recommend Bruce Markow's work." – KB, church organist

"I feel like I have new shoulders – so that's pretty cool, right? It's like they're all stretched out... totally fixed." – FF, graphic artist

For those who have shared their enthusiasm, thank you. For anybody who has not been in yet, there is no reason to wait. You can live, express and enjoy the results of your own success story. Call (212)721-8640 now.
"In the meantime, take a deep breath...
and be good to yourself." ™