It's Easy
Meet me at 238 West 72nd Street #2F/"Loft". It is half a block west of the intersection where Broadway, Amsterdam and W.72nd Street cross (at the 72nd St. subway station), halfway to West End Ave., on the south/downtown side of the street. The phone number is (212)721-8640. You can also email.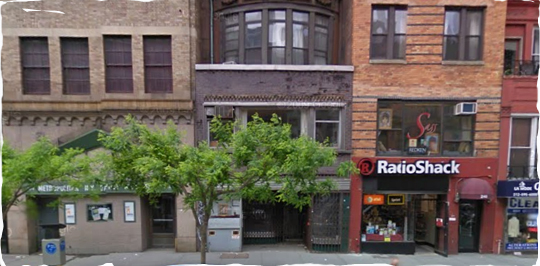 My practice has outlasted two landmarks downstairs and nextdoor, 2ndTime Around and Radio Shack. The Mutt Hutt is currently at street level. There are plenty of nearby places to browse if you arrive early.

Buzz the bottom intercom button to enter the building. Go one flight of stairs to the 2nd floor, immediate door on the right. Knock, enter and slip off your shoes. It is bliss and transformation time.

ON FOOT: Consensus is that the area is safe, pleasant and fun to walk in, with many enjoyable, fascinating services and sights. Click for map and directions.
BY SUBWAY:
1, 2 or 3 to West 72nd Street – walk a half block west to your destination, on the left.
B or C to West 72nd Street – walk 2-1/2 blocks west, from Central Park West.
A, B, C, D or 1 – only 11 blocks from the north exit at Columbus Circle (or transfer to 1, B or C there).
BY BUS: M72 crosstown, M7 up-downtown and others (e.g., M57, M5, M104, M11, etc.)
BY TAXI: Any driver should know the block well.
BY CAR: Parking is available at MUNI meters on 72nd Street, at metered and unmetered spots on nearby streets and at these parking lots.
BY TRAIN: Lots of lines stop at Penn Station, just two express stops away on the 2 or 3 subway. (W.34); PATH trains from NJ, all over mid- and down-town west; Metro North at Grand Central Station (E.42) and Harlem Station (E.125)
OR – WEB MAP/DIRECTIONS BY FOOT, CAR & PUBLIC TRANSPORT: Click, choose "Get directions" and enter your starting point.
There are plenty of restaurants, coffee shops, parks, cultural centers and cinemas to enjoy before, or relax in after, your session if you have the time. E.g., Central Park, Lincoln Center, Riverside Park, nearby piers, Museum of Natural History, etc...

"In the meantime, take a deep breath...
and be good to yourself." ™